Agriculture Crop Covers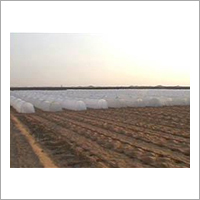 Agriculture Crop Covers
Product Description
Agriculture Crop Covers are Nonwoven Textures produced using polypropylene a practical and climate agreeable polymer; by turning the material into fine fibers and holding them by heat without utilization of any folios.
Agriculture Crop Covers is a cutting edge material which is neither a film or a regular material. It is extremely light; for the most part 17 to 19 grams for each square meter and subsequently exceptionally efficient. The Texture has particular UV safeguards/Stabilizers consolidated in it which guarantees security against the sun's beams.
Agriculture Crop Covers This texture is to fundamentally make a microclimate giving uniform ventilation there by empowering early development and improvement of the plant as well as crop with the significant outcome of both improvement in quality and yield.
Agriculture Crop Covers Safeguards the plant from cold and ice. Upto 5 degrees C some flowing dampness is caught by it and in case of an ice this film freezes giving the plant normal ice security. It limits the perils brought about by hail, weighty rains and tempests.
Applications
Agriculture Crop Covers can be utilized effectively by little and enormous ranchers the same including for kitchen planting.
They are ideal when solid seedlings and plants need security from nuisances, bugs and other ecological elements and where both quality and yield should be gotten to the next level.
Model
1) Lettuce, Carrots, Tomatoes, Radishes, Cauliflower, Potatoes, Spinach, Leeks, and so forth.
2) Spices, Bushes and Blossoms can likewise be really safeguarded from outside impacts.
Quality Confirmation
UV Sped up Enduring Analyzer for testing Agriculture Crop CoversS.
For UV Assurance suggested measurements of the best quality added substances are utilized for most noteworthy and most serious degrees of radiation and temperatures predominant even in extreme tropical and Center East environment conditions.
Vimal Tex Tech invests heavily in utilizes just prime quality virgin Polypropylene unrefined substances of the fitting fiber acquired from the world's most rumored makers and furthermore ace bunches/UV added substances of the greatest quality.
Quality Confirmation Affirmation in regard of the above can be accessible upon demand.
FAQs of Agriculture Crop Covers
What are Agriculture Crop Covers?
Agriculture Crop Covers are materials that are used to protect crops from harsh weather conditions and pests. These covers can be made from different materials, such as polypropylene, polyethylene, and non-woven fabric.

What is the GSM of Agriculture Crop Covers?
The GSM (grams per square meter) of Agriculture Crop Covers can vary from 10 gsm onwards. Generally, the covers have a GSM of 17 gsm.
What is the width of Agriculture Crop Covers?
The width of Agriculture Crop Covers can go up to 3.2 meters. Generally, the covers have a width of 3.0 meters.

Do Agriculture Crop Covers have UV protection?
Yes, Agriculture Crop Covers are fully UV protected. This means that the covers can protect the crops from the harmful effects of the sun's UV rays.
What types of crops can be protected with Agriculture Crop Covers?
Agriculture Crop Covers can be used to protect different types of crops, including herbs, shrubs, and flowers. The covers are very effective in protecting these crops from outside influences, such as pests and harsh weather conditions.
Trade Information
Asia Australia Central America North America South America Eastern Europe Western Europe Middle East Africa

All India